Piper USD 203 is proud to recognize the results of the Kansas State Department of Education Report Card. Piper has earned 17 grade level Standard of Excellence designations and each Piper School has earned a Building-Wide Standard of Excellence in both reading and math for a total of 25 Standard of Excellence designations. Piper High School is in the Top 5, out of 21 Kansas metro high schools, for our Kansas state

reading and math assessment scores.
---
Online Enrollment Is Here!
Online Enrollment Update - the new online enrollment process was rolled out on April 1. As of April 25th, 1573 returning students or about 75% of the 1910 students currently enrolled have already started enrolling for the 2013-2014 school year. Thank you patrons for your support of the new enrollment process.

You are now able to enroll your student(s), via the online enrollment, for the 2013-14 school year.
Please follow the instructions below to begin the online enrollment process for returning students. A login and password will be necessary to start the enrollment process. If one has not been acquired, you can contact the district office for assistance. If you do not have access to a computer, stations will be set up at each school and the district office for your convenience.
Sign on to Skyward Family Access through piperschools.com. Once you sign in, you will see the link to start the online enrollment process.

Family 1 or Educational Guardian must complete the online enrollment.

If you have more than 1 student in the district, you will need to complete this enrollment process for each student. Upon completion of the first student, click on the student drop down box at the top of the Family Access page to select your next student.

Follow the steps in order. Click on the blue bar for Step 1 and update student information. Please check the completed box for each step after that step has been completed. This will allow access to the next step.

Once you get to the checkout step, you will be able to click on Food Service Payment to see the status of your students Food Service account and/or to make a payment on that account.

Next, go to the Fee Management Payment, click "add" to place the fee into the student's account. Update cart. You can then pay by credit card at the top of the page. If paying by cash or check, click on the BACK button.

Click the box affirming checkout has been completed. Final step, click on the Complete Online Enrollment button for that student.
Please bring cash or checks to the Piper District Office at 12036 Leavenworth Road. Please call if you have any questions, 721-2088.
---
Piper Announces New Superintendent
The Piper USD 203 Board of Education has announced the selection of Tim Conrad as their new Superintendent. Conrad has been the Principal at Piper High School for the last five years and previously served nine years as the Superintendent of Pleasanton USD 344 and Lebo-Waverly USD 243. Conrad has been in education for 27 years. The board approved a two year contract.
He stated, "I am honored to have been selected by the USD 203 Board of Education to lead our outstanding district! I look forward to working with the Piper community in order to build upon our successful foundation as we work together to address the needs and opportunities of our children and our community!"
Conrad is a graduate of Colgan High School in Pittsburg, KS and has a Bachelor's degree in History and Master's degree in School Administration from Pittsburg State University. He also received his district licensure from Emporia State University. He and his wife, Robin, have four children.
---
How does Piper USD 203 spend the 2012-13 operating funds?
Our district has budget authority of $13,280,575 to operate the school system for fiscal year 2012-13. These funds are allocated by percentages shown in the chart below. The Legislature has established a policy goal, not a requirement, of 65% of funds to be allocated on instruction. As properly allocated by fund purpose, Piper spends 78.1% on instruction. This illustrates the commitment of our school leaders to use available resources to maximize our student's educational experience.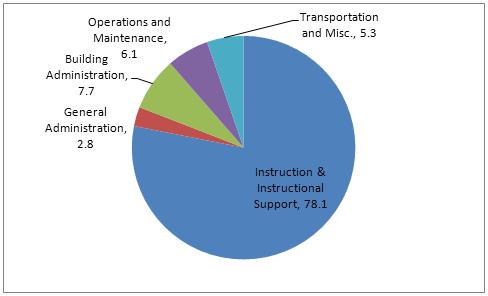 The chart above does not include capital outlay or bond and interest funds as the statutes prohibit use of those funds for operations
---
RETIREMENT RECEPTIONS SCHEDULED FOR ADMINISTRATION AND STAFF

---
Inclement Weather
In the event that we have weather that would require an early dismissal or school cancellation, we will call on the district messaging system using the contact information in your student's file. This website will offer up-to-date information, and we will also notify the following media:
---
We hope that you find our site both informative and easy to navigate. If you have any concerns, please contact Julie Friesen or James Grogan.